High-Pressure Plug Valve
DIN: 15 – 500 / PN 100 – 160
ASME: NPS ½" – 20" / class 600 – 900
PT range: -30 < T < 230/280°C, vacuum 10-8 mbar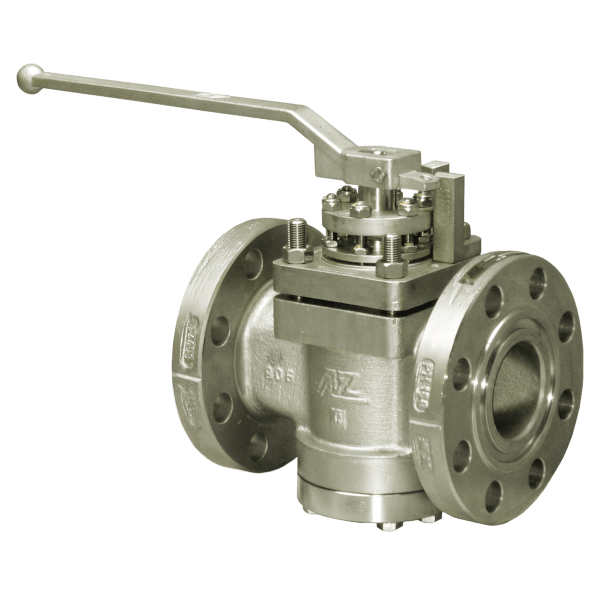 Design Features
Design Characteristics
High pressure safety sealing with stuffingbox packing
type "HDS-GL" with trunnion mounted plug
free of cavities
maintenance free – self lubricating
readjustment of plug and stuffing box possible
vacuum tight
fugitive emmission resp. clean air act certified  (TA – Luft 2002 approval)
Directive 2014/68/EU
fire safe design API 607 / ISO 10497
FDA conformity
PT-Diagram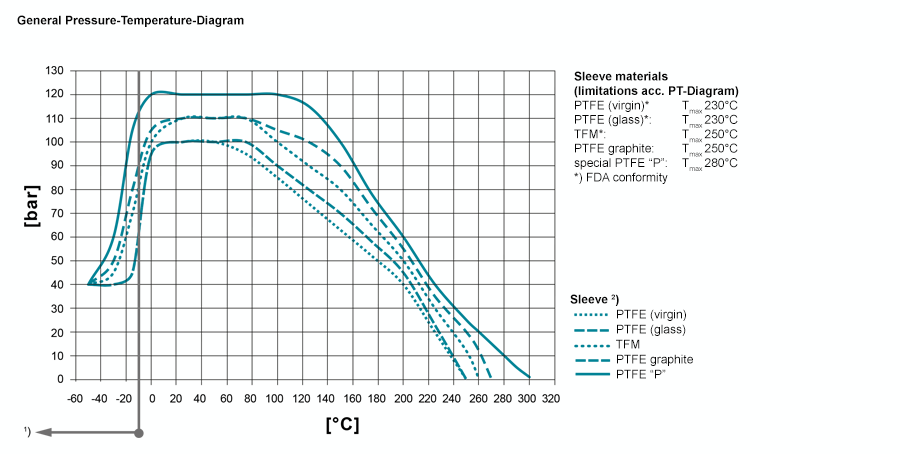 Operating temperatures < -30°C and > 220 °C have to be checked and approved by AZ according to the operating conditions.
Besides the P/T value of the sleeve the limitations of the valve bodies also have to be considered. Please refer to the EN 12516-1 resp. ASME B16.34 in order to choose a proper pressure rating (PN/class). The shown values refer to austenitic stainless steel 1.4408 (A351 Gr. CF8M).
1) For operating temperatures below -10°C low temperature / austenitic steels are required.
2) Sleeve: There are different sleeve materials / compounds available.
Bei der Auswahl des Dichtbuchsen-Materials sind auch die Einsatzgrenzen gemäß EN12516-1 bzw. ASME B16.34 für die jeweiligen Druckstufen zu beachten (PN/class). Die eingezeichneten Werte beziehen sich auf austenitischen Edelstahlguß 1.4408.
1) Für den Einsatz unter -10°C Betriebstemperatur sind tieftemperatur- bzw. austenitische Stähle erforderlich.
2) Buchse: Es stehen unterschiedliche Dichtbuchsen-Materialien zur Verfügung.
Materials
Standard body materials
• Carbon Steel 1.0619, ASTM A216 WCB
• Stainless Steel 1.4408, ASTM A351 CF8M
• Stainless Steel 1.4308, ASTM A351 CF8
• Unalloyed stainless steel casting (low Temp.) 1.1138, LCC/LCB/A352
Standard plug materials
• Stainless Steel 1.4408, ASTM A351 CF8M
• Stainless Steel 1.4308, ASTM A351 CF8
Special materials
• Alloy
• Monel
• Nickel
• Zirconium
• Titan
• Tantal
• other materials on request
Sealing Systems
Firesafe safety sealing (API 607) for fluctuating temperatures
with 3x graphite packing (adjustable) for additional
stem sealing; T

max

280°C

Type FSN
read more [...]
Port Forms

Dimensions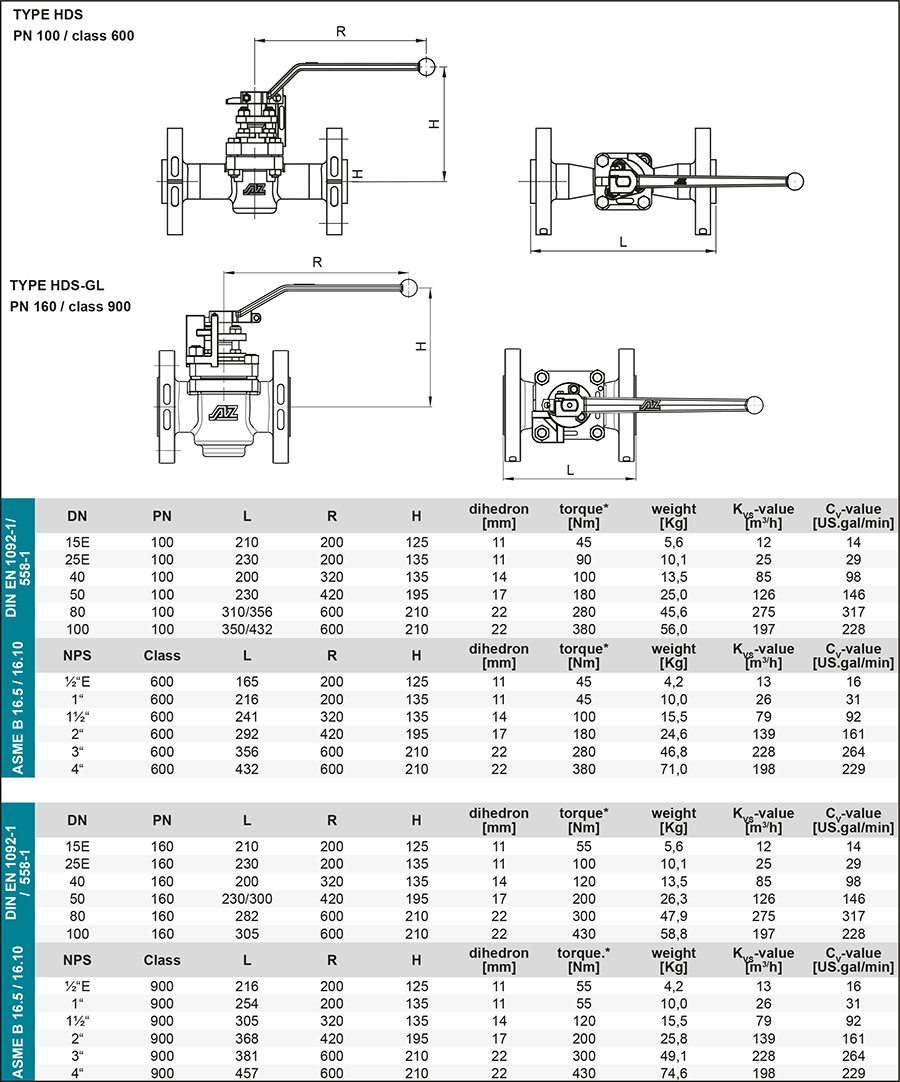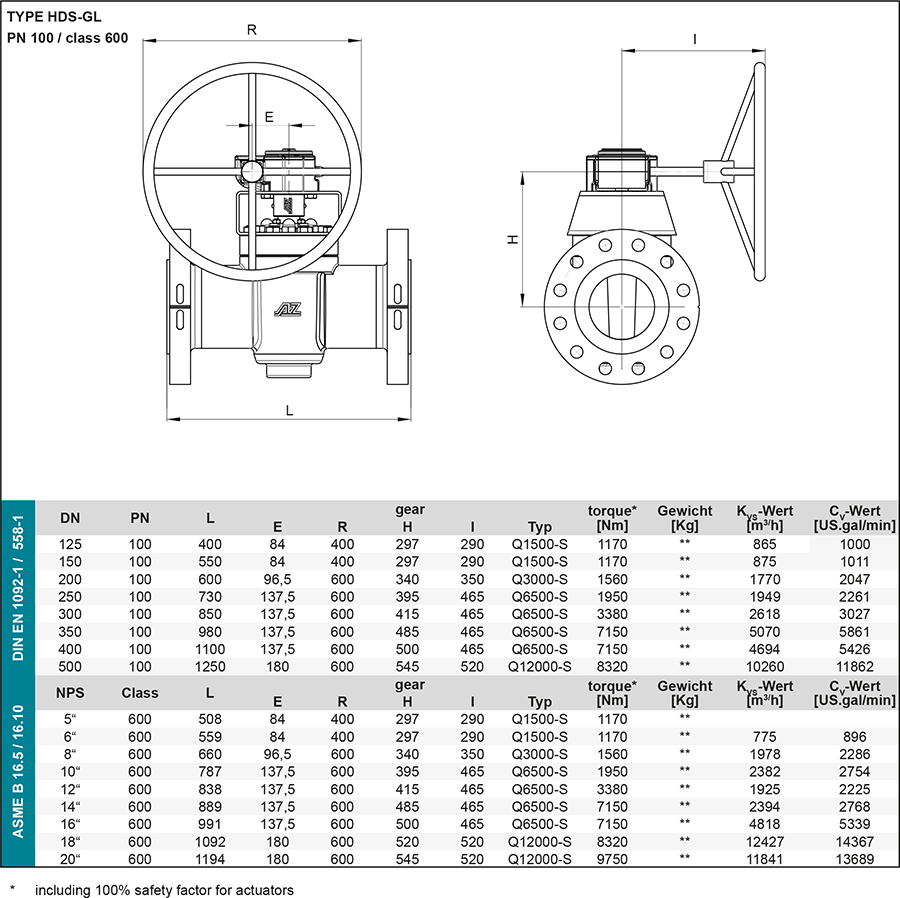 For geometric reasons, threads are used in the flange bores in a few cases
Actuation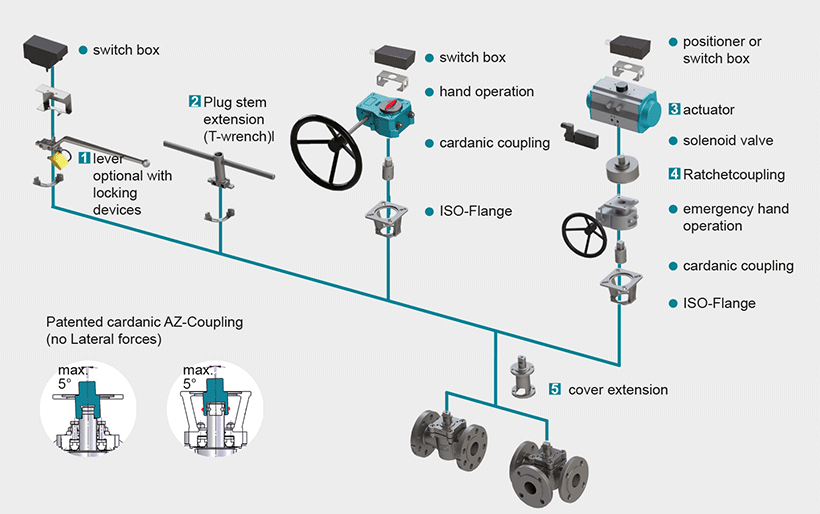 1 Locking Devices
Pilot valve combinations, pad lock eyelets, linear key conception, indexing plunger arrestor.
read more […]
2 Plug stem extension
Solid construction in stainless steel with T-wrench, Standard extension 100 mm or 150 mm, non standard lengths are available on request
read more […]
3 Actuators
Actuators for mounting-flange acc. to DIN ISO 5211
read more […]
NEW: Pneumatic actuator AIR GEAR for plug valves with high torque ≥150.000 Nm
read more […]
4 Ratched coupling
To usw on multiport valves with standard 90° actuator for bigger switchpositions than 90°
read more […]
5 Cover extension
Solid construction in stainless steel, Standard extension 100 mm or 150 mm high, non standard lengths are available on request . Hexagonal bolts on adjustment ring freely accessible. Note: Don't use with sealing FSN/FSN-SL and CASN/CASN-SL
read more […]